I need addiction help for:
Get Help
Now
Thank you for visiting Harmony Place online. We're standing by to discuss your needs and offer help. You have a choice to connect with us in the manner that makes you most comfortable. Choose from one of the following three options:
If this is a medical emergency or you are feeling suicidal, call 911.
We are an in-network provider with Anthem, First Health Network, Multi-Plan, Beacon, HMC, Humana, Aetna
Integrated Alcohol and Drug Rehab in Los Angeles
Harmony Place offers compassionate and comprehensive care for adults with mental health and substance use disorders. Located in an upscale area of Los Angeles in Woodland Hills, California, which is 8 miles from the Pacific Ocean. Our 4 residences provide a luxurious and safe environment that promotes healing. We focus on the individual and the family system valuing family participation on the journey to recovery.

We not only treat addiction but also address the underlying emotional and mental health concerns that escalate the manifestation of symptoms associated with drug and alcohol abuse. We believe that addiction treatment coupled with stabilization of emotional, spiritual, and physical well-being is the key to successfully maintaining sobriety.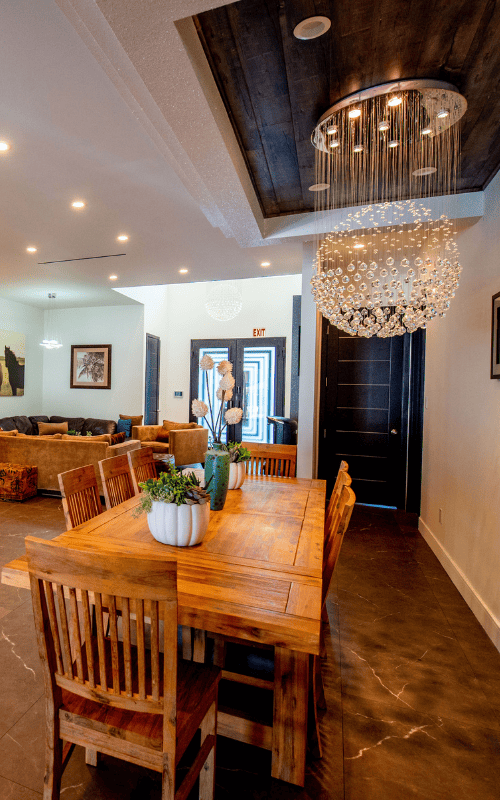 Our Addiction Treatment Center in Los Angeles, CA
Treating addiction and mental health conditions concurrently is considered dual diagnosis care. Many recent studies conclude that an integrated approach is much more effective in reaching long-term sobriety and behavior modifications than treatment that deals with addiction alone. Nearly half the people with drug and alcohol addiction will also have some mental health difficulties. By employing dual diagnosis treatment, Harmony Place ensures that both substance use disorders and the clients' mental health needs are addressed simultaneously and that they receive an individualized treatment plan for their specific substance abuse challenges.
We support the literature findings on the continuity of care that state at least 90 days of treatment through all phases of care (detox, residential and outpatient) are necessary for long term recovery. Harmony Place's solution-focused therapy is based on strong individualized treatment, the group process and the client's input which is critically important for their recovery.

Furthermore, the Substance Abuse and Mental Health Services Administration (SAMHSA) and the National Institute on Drug Abuse (NIDA) recently continue to endorse that: "Research has shown unequivocally that good outcomes are contingent on adequate treatment length. Generally, participation for less than 90 days for residential or outpatient treatment is of limited effectiveness." The treatment programs for drug and alcohol addiction last for an extended period of time. This allows our licensed professionals to apply clinical services like dual diagnosis care for the chronic disease of addiction and mental health issues.
Personalized Addiction Treatment Options
Harmony Place offers a unique combination of therapies and individualized treatment plans. The NIDA (National Institute on Drug Abuse) notes: "individual treatment outcomes depend on the extent and nature of the patient's problems, the appropriateness of treatment and related services used to address those problems, and the quality of interaction between the patient and his or her treatment providers." Since there is no universal metric for measuring recovery success, a drug rehab center may count factors such as program completion, sobriety rates, internal studies, and client interviews. Over the past 6 years, Harmony Place has conducted a series of outcome studies called Basis-24 which has been validated and found reliable in Inpatient and residential settings, showing a 77% decrease in substance abuse from admission to discharge.
By scrolling below, we learn more about our approach to addiction treatment and the many modalities we offer.
The safety & well-being of our clients is our top priority.
Medication Assisted Treatment
Learn how medication-assisted treatment helps clients with extreme issues, such as opioid or heroin addiction, get relief from withdrawal symptoms while detoxing. In most Medication-Assisted Treatment centers, one medication is substituted for another drug or is the only form of therapy. However, at Harmony Place, this is only one piece of the treatment program, used in conjunction with other forms of clinical, evidence-based, and holistic therapy.
Suppose a client is prescribed a specific medication for their addiction treatment. In that case, our physicians choose to do so thoughtfully and as needed, taper the patient off the medication when it is safe. Prescribing medication is done to treat more severe withdrawal symptoms, not to replace the client's original drug or alcohol addiction.
Important information about withdrawal symptoms and detox: drug and alcohol detox (otherwise known as medical detox) must be completed before moving on to drug or alcohol rehab programs. Detox is only one part of the recovery process, and withdrawal symptoms can be unpredictable. Still, at Harmony Place, you can feel confident that the medical professionals will keep you safe during the harshest of symptoms.
Clinical Care
Evidence-Based Substance Abuse Treatment
Clinical care at our Los Angeles, California, drug rehab centers is custom-designed with evidence-based therapy combined with holistic modalities to treat different substance use disorders, whether through an intensive outpatient program, inpatient drug rehab center, residential treatment, or outpatient services. Harmony Place is specially licensed to conduct specific programs, detoxifications, talk therapy, and support groups to assist those seeking addiction treatment live healthier, sober lives.
Because of our special licenses and our high quality of care for our patients seeking a nationally-accredited treatment provider, Harmony Place has the unique distinction of meeting a standard of care that only 5 percent of licensed adult residential treatment facilities in California have met.
Comprehensive Care and Relapse Resistance Building
Drug abuse problems, such as cocaine addiction, heroin addiction, prescription medication addiction, alcohol abuse problems, or substance use disorder, can cause dysfunction in the central nervous system. This dysfunction, coupled with the stress of coping without drugs or alcohol, are added factors that could lead a person down the road to relapse. However, with the comprehensive care and relapse-resistance building an individual and their teamwork during their stay in our treatment center, alongside the dual diagnosis care, they receive as part of their treatment program, relief from these stressors and pain and long-term recovery is possible.
Treatment Modalities
Our Addiction Treatment Modalities in Southern California
Because Harmony Place provides a safe and structured environment. Our treatment programs are based on personal responsibility, individual dignity, and self-esteem to explore the obstacles to recovery and the underlying issues that contribute to or exacerbate addiction.
At our rehab center, clients receive individual therapy sessions to explore sensitive topics, set goals, and manage treatment from the client's admission to the treatment center to completion of the program.
Substance Abuse Group Psychotherapy
Group therapy often helps an individual in a different way from individual therapy. By recognizing shared experiences, clients in the treatment center may feel more positive and validated by sharing their own experiences, mitigating any anxiety symptoms they might have had about entering a treatment program. Group therapy also allows individuals to develop social skills and adaptive behaviors by observing and modeling others in the treatment center and support group.
Family Therapy Programs
Family therapy also has an important impact on the success of many treatment programs. By providing psychoeducation for family members, Harmony Place supplies them with insight into addiction and the behaviors family members may have exhibited by their loved ones. Harmony Place delivers education for the family, and our rehab facility also provides family therapy to rebuild trust within the family unit.
The Harmony Place Full Continuum of Care
Our Unique Programs & Therapies at Harmony Place
Your personalized treatment program at our Los Angeles Drug Rehab Centers may include:
Community Support Meetings

Massage Therapy (may be offered)

Acupuncture Therapy (may be offered)

Chiropractic Care (may be offered)

Evidence-Based Approaches

Educational & Vocational Services

24/7 On-site Nursing Staff

Addiction-Focused Physicians

Gourmet Chef with Daily Prepared Meals

Gym Time and Fitness Training
An Environment Where Recovery Thrives.
Modern, Luxury Amenities
Harmony Place facilities offer a modern, luxury amenities for a world-class experience at our program.
Private Pools & Outdoor Lounges
Our clients have the opportunity to relax and connect with nature with our in-ground pools and outdoor lounges.
Snack Bar & Open Kitchen
Clients can enjoy 24/7 access to snacks and food, in addition to our daily chef-prepared meals.
We Care About the Outcomes at Our Drug Rehab in Los Angeles.
At Harmony Place we are very proud of our outcomes program. Every client is assessed upon admission, as needed during their treatment stay, upon discharge, and continuously after they leave our program.
77%
Decrease in Substance Abuse After Completing Inpatient Treatment at Harmony Place
Absolutely the best recovery center around.
I would recommend anyone who wanted help to come here. This place literally saved my life. I have overcome so many obstacles that always stood in the way of my recovery. It's not just because I was ready… the approaches the therapists use come from an empathetic, compassionate, and understanding place. They were able to hold the mirror up and help guide me through making solid changes. I [absolutely] love this place and everyone who works here and I'm just gonna shut up now because my ride is waiting and I'll write a novel!
Daniel H